5 Tips for Maintaining Your Deck for Years to Come
Decks are designed to provide outdoor living areas that promote relaxation. While wood decks are beautiful and blend in with the surroundings, composites (a mixture of plastic and wood) are easy to maintain and durable. Constant exposure to the elements will damage your deck, and shorten its life expectancy. The sun can fade the finish, and the wood can become dry. Snow and rain can cause warping and rot. Deck maintenance must be done regularly. Try these tips to maintain your deck and save money this summer.
1.
Cleaning Your Deck Routinely
Weekly sweeping away of dirt and debris will maintain the natural luster of your deck. The wood deck is meant to blend in with the surrounding environment. However, if dirt and leaves are left on it for too long, they can cause discoloration and mold.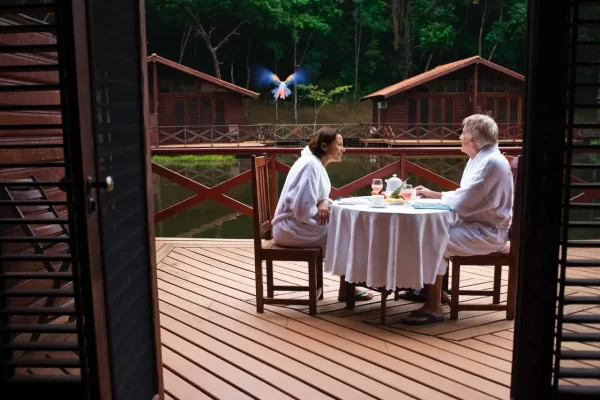 Use a wood cleaner that is appropriate for your deck's species at least once per year. Many brands are available, but all of them have the same function: to remove dirt, mold and algae as well as the most common causes of discoloration.
There are many different types of cleaners, each with their own ingredients and concentrations. The deck cleaners are classified by their application, such as power wash or spray scrub.
Bleach kills mold and mildew, but is not recommended to clean treated wood. The chemicals can also cause wood fibers to be raised, which will give your deck an untidy appearance.
Hydrogen Peroxide can be used as a bleach substitute. It kills mildew in a matter of minutes.
Oxygen bleach solutions are environmentally-friendly and have a strong fungicidal effect. They remove mildew and deep-rooted organic growth.
Oxalic Acid-based Solutions are ideal brighteners. Wood brighteners restore the natural beauty of wood. They neutralize wood cleaners that typically raise the pH.
When should you clean your brand new wood deck for the first time? The first year following installation is the only time you'll need to do a thorough cleaning. General cleaning is a must after any spills or messes, which could stain or attract bugs.
2.
Perform Repairs as Needed
After cleaning the deck, identify areas that require repair. Check for loose or rotten wood. Early repair or replacement of minor problems is recommended.
The lumber can shrink and swell over time, which causes screws and nails to move. In this case, you can hammer them or screw them into place. Replace any rusty screws or nails as they may cause the deck to become unsafe and discolor the wood.
Make sure the deck railings are secure. Once you are in a safe position, give the railing a good push to make sure it can handle a heavy weight. If the rail wobbles or shakes you should reinforce it or replace it.
Water can enter cracks and crevices if the flashing, the metal or plastic guards that are located where the deck meets the house is not checked. Install drainage systems that direct runoff away from the deck and onto the grass or ground, not the deck. Always use the best putty for nail holes.
3.
Sealants are a great way to protect your sealants
Allow the deck to fully dry before applying sealant. Sand the deck to remove splinters and irregularities. This step is important for the proper absorption and adhesion of sealant.
Sealing the deck will protect it against cracking, warping, and splitting. The deck is also waterproofed. You can choose from a variety of deck sealants, but if you live in an area that receives a lot direct sunlight then it is important to select one that will protect your deck against both UV and water damage. Deck sealant should be reapplied every two years to achieve optimal results.
Most composite decks don't require a sealant or staining. Composite decks offer a durable, long-term solution if you are replacing deck boards or building a new deck.
4.
Maintain your deck with high-quality Deck Stain
Wood decks need to be stained regularly to maintain their longevity. Use one or two coats a high-quality semi-transparent or semi-opaque or solid deck stain to keep it looking as good as new.
Use an exterior stain before adding color. Exterior stains are available in semi-transparent and solid finishes. Some are resistant to mildew and fade, while others come in latex or oil. Other synthetic pigments and darker wood stains can help block UV rays.
You can combine deck stain colours to create a unique look. A semi-transparent color on the deck's base could be paired up with a solid bright color along the railings and banisters. Professionally applied Deck Stain will last for up to 3 years on deck flooring with high traffic and up to 8 years on railings, vertical support beams, and horizontal support beams.
Read: Best Waterproof Paints For Wood
5.
Avoid Pressure Washing
To protect your deck, it is important to ensure that the wood can resist UV rays. High water pressure will soften the wood and make it more vulnerable to damage.
A simple garden hose and sprayer will do the job just as well. Pressure washing wood can cause damage, especially soft types like cedar. You can use a pressure wash if you wish, but make sure to set the pressure at its lowest setting. 
Decks made of wood are a great way to enjoy the outdoors with your family. A well-built deck will last for decades with the right maintenance and thoughtful touches. To protect your deck and increase its lifespan, take the time each year to clean, repair and sand it. Make sure to always buy from a Melbourne quality decking supplier, the bigger hardware stores maybe cheaper but usually it is poor quality, not straight and not something that will last.