Best Epoxy Resin for Thick or Deep Pours For Tables
The smooth application of deep pouring resin is guaranteed, whether it's to create a river table by hand or creative epoxy pieces.
Thick pours add a custom touch to your epoxy projects, and they also enhance the durability and quality of your resin artwork by maintaining its shine. If you are looking for the best epoxy for thick pours I've got you covered.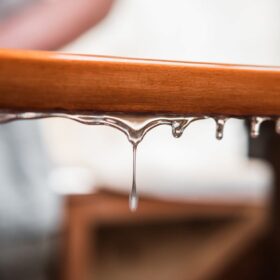 After years of learning and testing about the best epoxy for thick pours, I've compiled a list to help you choose a thick pour that is suitable for your project.
Let's learn about deep pour epoxy before I list the products.
The Best of the Best
This epoxy resin cures slowly in 24 to 36 hours at 70 degrees F. It produces a liquid finish with a glass-like appearance that resists yellowing and scratches.
This allows you to extend the gel time, which will reduce exotherms and increase air release. You can also add pigments, powders and resin dyes to get fantastic results.
Reviews of the Best Epoxy Resins for Thick Pours
1. Best Pour Epoxy Resin Kit - Deep Pour Epoxy Resin Kit Crystal Clear Liquid Glass
This thick epoxy resin is the perfect solution for deep pour projects. The self-leveling formulation makes it ideal for river tables, resin dyes, deep resin moulds, alcohol inks, and pigment powder.
This pourable epoxy resin is a great choice for table tops, wood and other deep pour projects. It offers excellent UV protection as well as being highly resistant to yellowing. This is my favorite choice for deep pouring projects, such as table tops and wood.
This resin is great for filling in large voids, and it works well with metallic epoxy. The deep pour epoxy resin can be created by blending mica powders and pigments.
This epoxy resin reduces the amount of bubbles. It is ideal for filling small spaces or difficult shapes.
To avoid streaks on your epoxy-cured surface, you should stir the fluid for a few more minutes after it appears clear.
This kit is compatible with silicone molds. It will appear like glass when you're done. You should note that the product takes two days to fully cure and shouldn't be used below 72 degrees. You may need to wait several weeks before you can remove it from the mold.
EcoPoxy is the perfect resin for those who need an epoxy resin that can pour up to 1.5 inch thick. This product, which is made with eco-friendly materials, is loved by many. EcoPoxy FlowCast can be used to create river tables, ocean tables, and deep pour applications using silicone molds.
EcoPoxy's FlowCast produces thick pours of epoxy that are extremely durable and have a strong bond. This brand is perfect for large projects, such as river tables and furniture. EcoPoxy FlowCast is easy to use and does not require any special tools.
Transparency is another benefit of EcoPoxy. EcoPoxy FlowCast's incredible air release and low heat exothermic buildup produce a solid, clear finish that resists cracking. The epoxy resin is able to be colored using EcoPoxy pigments because it cures into a watery appearance.
EcoPoxy, a brand of high quality, is dedicated to the manufacture of bio-based epoxies from renewable resources. EcoPoxy uses bio-based materials in its products and is constantly improving their formulas. You can be assured of a smooth, high-quality epoxy finish.
3. Epoxy-Resin-Crystal-Clear-Art 1 Gallon Kit for Resin Art
This epoxy resin is excellent for resin art, coatings, and castings. It is easy to use, so it's suitable for both novice and experienced artists.
This resin has no VOCs or odors. It is therefore better for the air quality while you are working.
This machine has a forty-minute running time, which gives you plenty of creative freedom to create a masterpiece.
This high gloss coating is ideal for any surface. It feels like rock and looks like glass. It's easy to use for anyone, regardless of experience.
Mix 1 part resin with 1 part hardener. To get the best results, work with the mixture at normal temperature for 45 minutes. The final product is crystal clear.
You can use this epoxy resin for a variety of art projects. It can be used to create jewelry, Geode paintings, Live Edge River Tables, and pictures.
You can also use it to make bar tops, table tops and river tables. It can be used to make wooden blocks or cut boards.
The color of your artwork will remain vibrant thanks to the excellent color stability of this resin. This resin is also ideal for outdoor epoxy projects due to its high chemical resistance.
This epoxy resin has a wide range of color combinations. The pigments are vibrant and there are no limits to the colors. Slow-cure epoxy has a richer color, and it does not separate from the bottle. This product is perfect for your next art project.
We Liked
Simple to use

Worked as advertised

Perfect for jewelry making and resin molds
Could Improve
Ice Epoxy's ICECAST product is the one I use when casting epoxy resin thicker than 1 inch. ICECAST can be poured up to 4 inches thick, making it ideal for casting, potting and embedding. Low color and viscosity provide a crystal-clear, bubble-free appearance for many art and hobby applications.
ICECAST's high-quality is just one of many reasons why this brand is a great choice for a wide range of projects. ICECAST is not only resistant to moisture and bacteria, but also has great air release properties and doesn't distort over time. ICECAST also has a low VOC and is UV-resistant.
ICECAST, compared to other epoxy products of similar quality, is a very inexpensive product that is easy to use. The high quality finish is guaranteed by its strong adhesion. Ice Epoxy's ICECAST can be used for a variety of projects, including large epoxy furniture or an artistic river table.
Mas Deep Pour epoxy is the right brand for those who are creating ocean or river tables. Mas Deep Pour epoxy is designed for deep pours and can be used for molding, casting, or encapsulating. This two-component epoxy formula is 100% solid and resistant to yellowing. The Mas Deep Pour Epoxy is available in 1.3-quart and 1.3-gallon sizes. It can also be found in 4-gallon.
Mas Deep Pour Epoxy is a slow cure epoxy resin that cures in 24 to 36 hours when 70 deg F. The epoxy resin, once fully cured will have a glassy appearance with a longer gel time. The extended gel time reduces exotherm, and allows for better air release.
There are many factors to take into consideration when determining the maximum thickness of a casting. The epoxy's capacity to pour deep pours may be affected by the workspace temperature, the mixing quantity, the material temperature and project dimensions. To get the best results, don't exceed a casting thickness of 0.5″ for a fully mixed 1.3-gallon set. Avoid exceeding 1″ when using a half-mixed kit. Pour multiple layers of epoxy if you want thicker castings.
This brand of epoxy resin is an advanced system for deep pouring epoxy. Pour this epoxy at temperatures below 75degF. Pouring too much epoxy at once can cause it to yellow and shrink. Mas Deep Pour Epoxy, a highly sensitive epoxy, should be cast according to the instructions.
6. Best Bubbles Epoxy Resin – Upstart Epoxy 2″ Deep Pour Epoxy Resin Kit DIY
It is ideal for deep pours onto surfaces such as Wood, Ceramics, Stone, Metal, and Concrete. The 2:1 ratio makes it simple to mix for anyone.
It's also easy to tint the paper with liquid pigments or mica powder. This allows for unlimited creativity.
This pour-on epoxy's formula for releasing bubbles is one of its unique features. The thinner viscosity of the epoxy ensures that it is clear and deep with no bubbles.
It is easy to use and of high quality, making it suitable for both professionals and DIYers. This epoxy is ideal for river tables and live edge tables as well as any other deep-pour project.
This product is perfect for casting, decoupaging and resin art. It is exactly as described, and it has no odor. This makes the workplace more pleasant.
It is worth the wait, even though it takes longer to cure. It is easy to mix and has very few air-bubbles.
When cured, the finish is crystal-clear. It's amazing! When building your forms, you should consider the thinness of the resin.
We Liked
Easy to use

It's bubble-less

Easy to Mix
What Could Be Better
7. Superclear Liquid Glass
Superclear Liquid Glass is the epoxy resin of choice for deep pours. Superclear Liquid Glass can be poured up to four inches deep in one pour. This epoxy brand has a crystal-clear, glossy finish. It is also durable and long-lasting.
Superclear Liquid Glass has a high level of stability and is heat resistant, preventing warping and flexing. This epoxy's formula is unique and prevents it from yellowing, ensuring a crystal clear finish for longer. Superclear Liquid Glass has a thin viscosity and a virtually bubble-free finish.
Superclear Liquid Glass can be used for many projects. From river tables to live edges, art pieces, and even small jewelry. This product is compatible with liquid pigments such as mica powder, alcohol inks, and dyes.
Superclear Liquid Glass is made with UV additives and only the best ingredients to produce a glossy finish for various projects. Superclear Liquid Glass is one of the most beautiful epoxy resins due to its smooth application and deep pours.
8. Upstart Epoxy Deep Pour
Upstart Epoxy, a relatively new brand, is showing great promise for its high-quality and easy-to use epoxy resins. Upstart Epoxy produces a wide range of resins, including a deep-pour formula that can be used for countless projects. Upstart Epoxy Deep Pour is a great option for furniture, countertops and art.
This brand of epoxy cures with a low heat reaction, allowing you to pour deeper and work longer. The epoxy becomes extremely durable once it has been cured and is resistant to scratches and stains.
Upstart Epoxy, unlike other brands of epoxy, is bubble-free. It's also non-flammable and non-toxic. This epoxy has a 2:1 ratio for mixing and is easy to apply. The kit includes everything you need to apply the epoxy, including brushes, spatulas, hardener and stirring sticks.
It is simple to tint the Upstart Epoxy Deeppour with liquid pigments, alcohol inks, or mica powder. The ultra-glossy finish with its crystal-like technology can enhance the appearance of many materials including wood, stone and metal.
9. Total Boat Thickset Deepest Pour
Total Boat Thickset is a great option if you are looking for a high-quality deep pour epoxy system for DIY projects. This product is great for river tables and live-edge slabs tables. It can also be used to create deep resin molds. This self-leveling formulation features an easy to use 3:1 mix ratio, which pours 2 inches thick in small moulds and 1 inch thick in large ones.
Total Boat Thickset Deep Pour is ideal for indoor use because it has low VOC and low odor. The epoxy is BPA free once it cures and can be used to contact food. This epoxy is used to protect surfaces such as tables, counters, and other surfaces in direct contact with foods.
This resin has a clear finish that is easily tinted with liquid pigments, alcohol ink or mica powder. The surface is waterproof and resistant after curing. The stunning appearance of this product makes it a great choice for jewelry, bar tops and kitchen islands.
The thickness of your project will depend on the size of the mold. If you are working with smaller jewelry molds, pour up to 2 inches thick. For larger projects such as epoxy slabs and river tables, you will need a thickness of 1/2 to 1 inch. Pouring deeper can cause cracks, yellowing and shrinkage.
10. Incredible Solutions Pourable Materials
Incredible Solutions Pourable Plastic is a great product if you are new to epoxy resin. Each kit includes detailed instructions and all the materials you need to make the 2:1 mixture. If you want to add some color to your project, the epoxy can also be mixed with mica powder.
Incredible Solutions Pourable Plastic has a 2-inch deep pour for projects like river tables, live edge, embedding and casting. The smooth application and performance of the Incredible Solutions Pourable Plastic allows for minimal bubbles, and a shiny finish. The Incredible Solutions Pourable Plastic has UV resistance to prevent yellowing. It is not recommended that epoxy projects are left in direct sunlight as they may yellow.
This product is slow-curing and has a low exotherm heat because it can be poured up to a depth of 2 inches. The epoxy can be worked with for longer before it starts to cure.
Incredible Solutions Pourable Plastic can be used for a variety of projects. Incredible Solutions Pourable Plastic, whether you are a novice to epoxy or a pro at epoxy pouring, is suited for deep epoxy pours. The crystal clear appearance of this product adds elegance to many items, including jewelry, bar tops and tables, serving trays, living edges, coffee tables and more.
11. Pourable Deep Pour Plastic - Made in the USA. Best for Beginners.
It is worth noting that this pourable resin comes from the United States. The UV stabilizers prevent the resin from yellowing after prolonged sun exposure. Pourable Plastic would be my choice for semi-outdoor uses such as patio tables with shade and bars. It is specially designed to have a low heat buildup exothermically, which makes it ideal for warm environments.
Pourable Plastic is a great choice for DIY enthusiasts and professionals alike. You can work with it without fear of the heat damaging your project. It also has no discernible smell. Also, it does not contain volatile organic compounds (VOCs). It is easy to use, whether you are an expert or a novice.
This is a low cure epoxy resin so you can pop bubbles easily before the mold has set. This is an excellent pour epoxy resin that's perfect for encapsulation. It takes a very long time for the epoxy resin to cure because it is thick. Temperature can affect the cure time. It can be anywhere from 36 to 48 hrs. The project you're working on can also affect the amount of time required to cure.
This Incredible Solutions product is a great choice for beginners. The extended curing period allows for greater control of the final result. Its deep pouring capability makes it a versatile tool for a variety of creative projects. It can be used for jewelry making, river tables and encapsulation tabletops.
We liked:
It's beginner-friendly
Works as described
Pourable resins are one of the most cost-effective ways to achieve maximum casting thickness.
Easy to use
What could be better:
Bubbles can be caused by not following instructions
Frequently Asked Questions For Epoxy Resin Thick Pours
Why is Epoxy Resin best for thick pours
The following are the reasons why epoxy resin is perfect for thick pours.
The mix ratio is 1: 1, so it's easy to mix.

It's self-leveling.

 

You don't need to purchase expensive rollers or brushes.

It's odor-free.

 

You won't smell anything when you use it.

The UV-resistant material is easy to clean and contains powerful UV inhibitors.

 

It prevents your project from going fading.

Following the instructions is easy.

The FDA has set forth regulations for the use of thick pour resins to ensure safety.

Resins for thick pours can be used with acrylic paints, mica powder pigments and resin dyes.

You can exercise your creative muscles with the forty-five minute working time.

The cure time is two to three working days. This means you don't have to wait forever to finish your project.
How thick can Epoxy Resin be poured?
Knowing when to combine the resin (Part A), and the hardener, (Part B), is crucial for using epoxy resins. During the curing process, a chemical reaction generates heat. It is therefore important to carefully control the temperature, and follow the label instructions, no matter what epoxy you are using.
If you pour too much epoxy, it can cause the reaction to generate excessive heat. This will result in an unattractive product that has cracks and bubbles. You can pour epoxy again after leaving a fingernail or thumbprint in the previous layer.
You can pour as many layers as you like of epoxy resin if you use 1/8″ thickness. This thickness is highly recommended for two reasons. First, it allows the resin to heat up and overheat.
Pour in 1/8" for best results. Pour it thickly, but remember that resin art has a 72-hour curing time.
What is the best epoxy for deep pours of concrete?
Casting epoxy resin works best for thick pours. It will only take one or two pours to get the desired thickness. You may not require multiple layers if you are happy with the result. It is heat resistant. It will cure without any problems. It's also very clear and beautiful. It is easy to use, and its structure doesn't change once you have created something.
What is the best resin to use for deep castings?
The best resin to use for deep casting is epoxy resin. The resin can be poured thickly (up to 2 inches depending on the formula), it is hard-curing and very stable. Epoxy cures clear but can be tinted with resin dyes for the color you want.
Can epoxy resin be used indoors?
While epoxy resins are generally safe, inhaling fumes while mixing or preparing them for application can cause irritation and inflammation in the nose and throat. Wear safety glasses and masks while using epoxy resin outdoors or in areas that are well ventilated.
What are the uses of epoxy resin?
Adhesives are one of the most popular uses of epoxy resin. The epoxy's solid characteristics allow for engineering and systemic adhesives. Epoxy resins are used to construct vehicles, snowboards, airplanes, and bikes.
Deep Pour Resin Summary
Casting resins, or epoxy resins for thick pours, are also called casting resins. The cast resins are quite thick and provide a thickness of around two inches.
They are useful in the manufacturing process as they can be used to make a variety of products. They are also less expensive and easier to use.
Our top choice is Deep Pour Epoxy Resin Crystal Clear Liquid Glass. It is easy to use and provides adequate UV protection. It is a great epoxy to use with liquid pigments.