Best Glue for Wood to Metal: Product Reviews
People have used glue to join materials for centuries. However, some adhesives bond similar materials, such as metal to metal or Wood to Wood.
Nonetheless, you can bond wood to metal and get a permanent bond. Not all glues can attach metal to wood. You need metal-to-wood glue with very high tensile strength.
Two-part epoxy or acrylate is the strongest glue for glueing metal to wood. Also, polyurethane-based glues are the best glue for wood to metal.
I have spent a huge part of my days glueing furniture together. Our team curated this comprehensive guide to help you pick glue for metal to wood.
What is the Best Glue for Wood to Metal
A polyurethane-based adhesive like Gorilla Glue or Gorilla Wood Glue is the best choice for adhering wood to metal. It provides a strong, waterproof bond and is easy to use with its nozzle applicator. It also comes in a gel form for tighter spaces.
Does Wood Glue Work on Metal?
It can be challenging to stick metal to wood because of different porous surfaces. However, Polyurethane based wood glues such as Gorilla glue or original Gorilla glue can stand up to the task and give you a solid permanent bond.
Things to Consider Before Buying an Adhesive for Gluing Wood to Metal
You can not use ordinary wood glue to bond metal to wood. You need a particular glue cut out for the job when glueing metal to wood.
Using regular wood glue will make you run into problems because metal and wood vary in porosity and flexibility. Consider the factors below to help you pick the ideal adhesive for bonding metal to wood.
Water-resistance
Go for the best waterproof glue to ensure your projects stay in place even when using the glue for exterior applications.
Pieces left outside are continually exposed to the elements, such as rain, UV rays, snow, etc. The project will fall apart if you use an adhesive that does not resist the above conditions.
Flexibility
Opt for an adhesive you can use on multiple surfaces to reduce waste and save money, as you can use the glue as the need arises. For example, buy glue that can bond a metal surface, wood surfaces, ceramics, etc.
Temperature
Buy an adhesive that can withstand heat to ensure the durability of the bond. Read the label on the can to know whether the adhesive resists temperature.
Tensile Strength
Purchase glue with extremely high tensile strength to ensure your project will not break down even when under high tension. Read the product's label to determine its tensile strength.
Best Glue for Wood to Metal Reviews
Gorilla 2 Part Epoxy – Best Glue for Aluminium to Wood
Original Gorilla Glue – Strongest Glue for Metal to Wood
Starbond Medium Premium CA – Best Construction Adhesive for Wood to Metal
Loctite Ultra Gel Control Super Glue – Best Adhesive for Metal to Wood
J-B WELD KwikWeld – Best Value for Money
Best Glue for Aluminium to Wood – Gorilla 2 Part Epoxy
Gorilla Epoxy adhesive is a stable and durable epoxy ideal for household and automobile repairs due to its exceptional resistance to solvent and water.
The simple syringe separates the epoxy resin and hardener, making dispensing easy and preventing hardening over time. It comes in two separate barrels set apart by a simple syringe.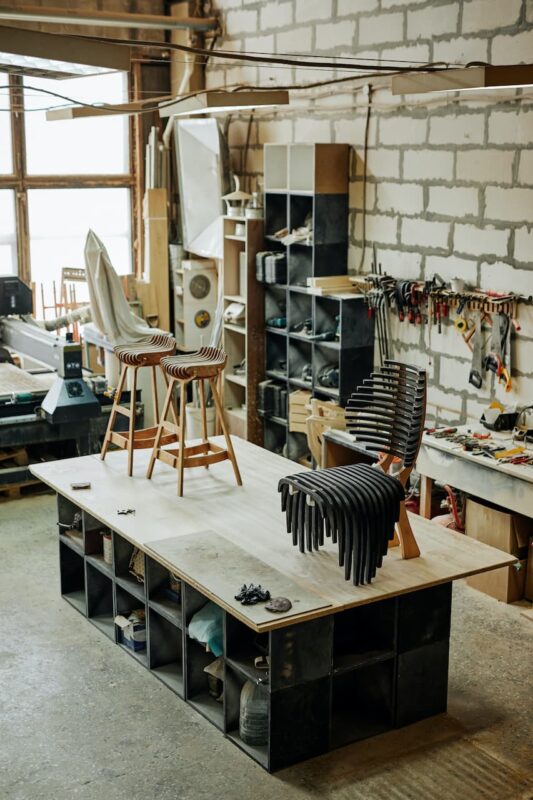 This product can be used on Steel, aluminium, ceramic, glass, wood, tile, and plastics surfaces. It dries with a perfect, crystal-clear finish, giving your projects a spotless look.
Using J-B WELD KwikWeld for the first time, I must practise mixing it before applying it to my intended project. I want to ensure I achieve the right consistency for a strong bond.
I must be careful with the mixing time to avoid a jelly-like or rubbery result. Using this product as an alternative to soldering or welding torches for metal pipes and fittings works great.
I work in a well-ventilated area due to the strong odor emitted during the mixing process. It's also important to prep the surfaces by lightly sanding them and ensuring they're dust and dirt-free.
Once I apply the epoxy, I know it takes about five minutes to dry, but I wait around twenty-four hours for it to fully cure for the best results. I try not to disturb the project after glueing to allow the bonding process to complete and ensure a strong and durable bond.
 The Good
You can use it on various surfaces

Dries clear, leaving a spotless appearance

Easy to dispense and use

It is waterproof

It is fast drying
 The Not So Good
Strongest glue for metal to wood – Original Gorilla Glue
As someone frequently using Gorilla Glue, I can attest to its extraordinary bonding properties and versatility. It's a water-stimulated polyurethane formula that expands to form a strong bond with virtually all materials, making it my go-to solution for various projects and restorations.
To activate Gorilla Glue, I dampen the surface I'm working on after lightly sanding it. I've learned to apply it sparingly because it expands 3 to 4 times in volume.
If I accidentally overapply, I quickly wipe off the excess before it dries or uses a sharp razor to trim it off. It's important to note that Gorilla Glue cures with moisture.
When glueing porous materials like wood, I dampen one surface slightly, while for non-porous surfaces such as metal, ceramic, fibreglass, glass, etc.
I lightly sand both pieces and soak them before applying the glue. I'm careful not to put water in the glue bottle and always wear protective gloves to avoid getting the glue on my hands, as it can be difficult to remove and may ruin my clothes.
I also wear an apron to protect my clothing unless I don't mind discarding what I'm wearing.
One of the things I appreciate about Gorilla Glue is its durability and resistance to harsh weather, making it suitable for outdoor use. After using it, I clean the nozzle with a dry cloth and tightly replace the lid for future use, as it has a long shelf life.
The glue is also reinforced for better impact resistance, making it reliable for handling drops or vibrations in my projects.
The Good
It is easy to use 

It withstands harsh weather conditions

Ideal for almost all surfaces

It does not have a strong odor

A little goes a long way
 The Not So Good
Hard to control once it starts expanding
Best construction adhesive for wood to metal – Starbond Medium Premium CA
As someone who has used Starbond Medium Premium CA, I can vouch for its industrial-grade performance and versatility. This adhesive is perfect for a wide range of repair tasks around the home.
One of the things that sets this product apart is its excellent packaging. It has extra applicators, extension tips for easy flow control, and a built-in needle to prevent clogs, making the application a breeze.
Starbond Medium CA is easy to apply and comes in different consistencies to suit various needs. It also comes with an activator that speeds up the bonding process. However, I've learned that if I use the version with a lighter texture, I need to apply it sparingly, as it can be runny.
One of the standout features of this glue is its super light density, similar to car oil. It easily seeps into my working surface and creates a strong bond, ensuring a reliable repair job.
I've found that this adhesive has a long shelf life of about 30 months when stored under 40 degrees Fahrenheit. I can keep it in the refrigerator until I'm ready to use it again, ensuring its freshness and usability.
It is important to work in a well-ventilated area when using Starbond Medium CA, as it emits strong fumes. However, the value for money is excellent, as a little goes a long way in my repair projects.
While it's great for all-around repair work, I've found it particularly effective for bonding acrylic nails, providing a durable and long-lasting hold.
 The Good
It has a long shelf life

A little goes a long way

It comes in a handy practical package

It is safe for your nail use

It is easy to use
 The Not So Good
Its runny consistency might make a mess
Best Adhesive for Metal to Wood – Loctite Ultra Gel Control Super Glue
I love using Loctite Ultra Gel Control Super Glue for repairing breaks around the house. It's a rubber-toughened instant adhesive that's perfect for handling impact, vibration, shock, and extreme temperatures.
The unique packaging makes it so easy to use, with its tiny tip that allows for precisely applying the glue exactly where I want it. Plus, the little squeeze tabs on the side make it quick and convenient to dispense the glue.
One thing I always make sure to do when using this product is to wear protective gloves. I don't want my fingers to stick together if I accidentally touch the glue with my bare hands.
The drying time is around 30 seconds, which gives me enough time to adjust and position the pieces I'm fixing to my satisfaction.
One of the things I love most about this glue is that it's solid and flexible, making it perfect for fixing tread detachments in sneakers. Whether just a small edge or a larger section that has peeled back, this glue does the job.
The best part is that it works on multiple surfaces, including metal, plastics, paper, rubber, ceramics, wood, and leather, forming a strong bond.
Another great feature is that it dries crystal clear and sets without clamping, making my repairs look seamless.
Loctite Ultra Gel Control Super Glue is my go-to choice for household repairs. Its durability, ease of use, and versatility make it a reliable and effective adhesive for various applications.
The Good
It has user-friendly packaging

It is easy to use

It is flexible

It is heat resistant

You can use it on almost all kinds of surfaces

It is fast drying
 The Not So Good
It isn't easy to get rid of once it sticks to your bare skin
Best Value for Money – J-B WELD KwikWeld
I love using J-B WELD KwikWeld for quick and strong repairs around the house and on my vehicle. It's a fast-setting version of The Original J-B Weld two-part epoxy cold weld solution that provides durable and long-lasting results on metal and other surfaces.
Mixing it in a 50:50 ratio forms a permanent bond that can be shaped, sanded, taped, filed, and even drilled after it cures. It's convenient, and you don't need specialized skills to get professional-like results.
When using this product, I wear protective clothing to avoid getting it on my clothes, as it sticks permanently. It's also important to clean and degrease the working surface before applying the epoxy for best results.
I usually mix it in small batches to avoid waste, as it dries up in just six minutes and fully cures in four to six hours. It can be messy, so I always tape off the areas where I don't want the epoxy to go and remove the painter's tape before it hardens. If there's any excess adhesive, I clean or remove it with acetone before it sets.
One of the great features of this product is its temperature resistance, as it can withstand temperatures of up to 300 degrees Fahrenheit. It's also waterproof and has excellent solvent resistance, making it suitable for indoor and outdoor applications.
J-B WELD KwikWeld is my go-to option for quick and reliable repairs. Its fast-setting formula, versatility, and durability make it a must-have for household or automotive repair needs.
The Good
It is long-lasting

It does not run or drip

It is chemical resistant

It is waterproof

It can withstand high heat

It works on various surfaces
 The Not So Good
It dries up to a dark color.
Have you ever questioned if you could repair your vintage furniture by bonding wood with metal? If you are bobbing right now, rest assured that you can! The issue is that the two surfaces differ in density and porosity.
The wood expands and contracts much more than the metal. As a result, establishing a secure bond can be challenging. So you must choose metal-to-wood glue to attach metal to wood and get a durable bond.
Best Glue for Sticking Metal to Wood
If you are doing household and automotive repairs, here are the glues you could use when bonding wood to metal.
Epoxy for Wood to Metal
Epoxy adhesive conductive glues are moisture-resistant, can withstand temperatures, and can give you a strong bond if you glue metal to wood.
When the two-part epoxy adhesive is applied to surfaces, it securely adheres to them due to resin and hardener as the bonding agent.
Liquid Nails
Liquid nail is an excellent adhesive for small projects and DIY repairs. It bonds quickly to virtually all materials. You use it where nails, screws, and hammers can't.
The product has a resealable cap to keep the product fresh for future use.  They can resist hot and cold temperatures. Liquid nails can be a superb option for outdoor equipment.
E 6000 Adhesive
E6000 adheres well to wood, concrete metal, glass, masonry fibreglass, and ceramics. It also sticks well to leather, rubber, vinyl, and plastics.
Temperature extremes will not cause it to degrade or become delicate. E6000 joins everything, allowing you to make anything.
It is heat resistant but takes longer to dry. It is non-flammable once cured, and you can paint over it. The adhesive dries clear and is photo safe.
Super Glue
Use superglue for basic household or automotive repairs. It bonds surfaces such as wood, metal, leather, etc. The adhesive cures after a few minutes and sets in sixty seconds. So, you have little time to align your pieces before it dries.
You need to work faster. Use super glue to glue glass to wood or metal to wood. Due to the glue's high tensile strength, the surfaces do not require clamps after application.
How to Glue Metal to Wood
Clean the surfaces and ensure they're grime, dirt, dust, or oil-free. Prep your glue, check the solvent and apply the adhesive following the manufacturer's instructions. Here's a step-by-step guide on how to glue metal to wood.
Materials you will need
The piece of metal and wood you need to join

Fine grit sandpaper to clean metal and the wood surface

Tape

Steel wool

Clamp/ fixtures

Safety gear such as aprons, gloves, goggles, etc.

Your favourite epoxy or glue
Step 1: Safety first
Not all adhesives could bond metal to wood. It would help if you had the correct glue for metal surfaces. When using the glue for metal, adhere to the product manufacturer's safety instructions.
Work in a well-ventilated space or workshop with enough space to hold all required supplies. Cover up furniture with protective clothes or paper.
Evaluate and test the fit of the parts you are joining to avoid creating a flexible bond. Remove all the fragments or particles that could obstruct a seal.
Wear goggles and nitrile gloves. Only use glue for non-weight-bearing fixtures. Anything weighty will require extra support.
Step 2: Clean the surfaces
Ensure both surfaces are clean and dry. Remove fingerprints, dust, dirt, wax, oil, or grease with a clean cloth. Slightly roughen smooth surfaces with fine-grit sandpaper. Sand down the Wood glueing if you want to use less glue.
Note that rough wooden surfaces will hold more glue and thus form a very strong bond than finely sanded Wood at Glue Lab. Ensure the wood is stable and has no loose splinters.
Epoxy glue necessitates mixing adhesive and hardener parts and applying the bond with the recommended tools. Open the screw-on cap and scrutinize the product.
Follow the detailed instructions on the package for the appropriate amount to use. Be mindful of the proper glue proportions and application techniques. It'll be challenging to separate the parts after glueing them together.
Step 3: Apply the glue and join the pieces
Follow the manufacturer's instructions when applying the glue. Apply wood and metal glue in a single continuous movement to ensure uniform coverage. Spread the glue around to get a thin, uniform layer that extends to the edges.
Another approach is to apply a thick layer of glue so that when you apply some pressure to the parts you're bonding, it will disperse between contact gaps naturally.
Using an instant adhesive such as super glue, you may not require a clamp to hold your pieces together. Here's more on glueing wood without clamps.
Nevertheless, the overall procedure necessitates an additional alignment step that stresses the joints of both surfaces with epoxy-based adhesives.
Step 4: Let the glue set and cure
Unless you use a cyanoacrylate adhesive that will dry in ten to thirty seconds, keep things in place until your glue dries. You can achieve this by applying pressure from heavy loads, gravity, or clamps that prevent pieces from moving.
Epoxy resin glue can take twenty-four hours to cure fully, so resist the urge to 'test' the bond. Avoid touching the glue before it dries. To achieve stronger bonds, Let the parts sit undisturbed for twenty fours.
Step 5: Put the final product to the test
Once you're sure that the metal surface has adhered to the wooden piece, prod the joint to check, and make sure not to apply too much pressure, or the pieces will fall apart if the joint is still flexible.
Remove any excess glue from the edges with fine-grit sandpaper. Be careful not to sand the joined pieces. If you opt for superglue to bond wood to metal, here's how to go about it.
Hold the container and squeeze the bottle's sides.

Only use a small amount of glue on one of the surfaces.

Join the wood to the metal and hold it together for about a minute.

Let the project sit for approximately five minutes to secure the bond.
If you choose epoxy adhesive, the general procedure is as follows
Mix the resin and hardener in a 1:1 ratio on a clean, dry, and disposable container.

Apply the product within five minutes. Most adhesives cure in twenty-four hours.

Attach metal to wood. If it needs clamping, do so in the shortest time possible. Leave it undisturbed for thirty minutes and let it cure extensively for one day. Note the procedure may vary slightly. Kindly refer to the instructions on the can for the best results.
Will liquid nails glue wood to metal?
Yes. You can use liquid nails to bond wood and metal in household and automotive repairs. They have a powerful formula that works in any weather. You can do simple repair projects with liquid nails without hiring a professional. They withstand temperatures and are, therefore, ideal for outdoor equipment.
Will gorilla glue work on metal?
Polyurethane-based glues (such as Gorilla Glue) and cyanoacrylate-based adhesives such as Gorilla Super Glue) will both metal to wood. Epoxy resin and contact adhesive are also great for glueing wood to metal. The best glue for metal will depend on a few factors.
How to attach metal to wood?
Ensure both surfaces are free of dirt, dust, wax, and grime. The application process differ slightly based on the adhesive you're using. If you use superglue, apply just a little glue on one surface, squeeze the pieces and give them to cure for a day.
Can you glue metal to wood?
Trying to bond anything to metal can be complicated, so you must successfully select the correct glue to glue wood to metal. When choosing an adhesive, carefully read the labels. Although forming a secure bond between wood and metal may appear tricky, using metal-to-wood glue is possible.
How do I remove excess glue?
Use a combination of manual and chemical techniques to remove glue from surfaces. Apply petroleum jelly, nail polish remover, vinegar, or oil to the affected area. You can also use oil-based substances such as mayonnaise or ordinary margarine. Saturate the section entirely and gently remove the glue with a scourer or scouring pad.
How to attach metal to wood without nails?
Using metal glue is the best way to glue metal to wood without nails. The best glue is super glue, polyurethane glue, or epoxy glue. Liquid nails also do a great job of sticking wood to metal.
How to attach wood to metal without screws?
Sticking wood to metal will not be stressful using polyurethane-based glue such as Gorilla Glue or Gorilla Wood Glue. Although glueing wood to metal can be tricky because the surfaces differ in density and porosity, it is possible.
Whether you're a professional carpenter or just someone who enjoys arts or crafts, you will need to glue metal to wood at some point.
Selecting the best glue for wood to metal is critical because not all adhesives on the market can provide a secure bond when attaching these two substrates.
Even if you are a complete newbie, the best metal glue should be easy to use. Also, it should work on multiple surfaces and give you a permanent bond.